Opera on the Metro.
Tenor Isaiah Bell serenades commuters.


I've just got back from one of my favourite free shows in Montreal. It's not difficult to get to - you just jump on the metro, get off at Berri station and there it is. Young singers from
Montreal Opera's Atelier Lyrique
ready to perform a concert to folks as they travel home. Except some of us aren't travelling home at all and make a special journey to see them. I think it's my 6th or 7th show. If you know the price of opera tickets
this is a good deal.
Baritone Pierre Rancourt sings and dances with soprano Ileana Montalbetti.
Flash mobs and twitter accounts are not the first thing that comes to mind when you think of opera but the
Montreal Opera
company is on a mission to bring the art form to a younger audience and has even given spontaneous shows in Jean Talon market and Simons department store. I love these shows in the metro station for many reasons. I end up looking at the audience as much as the singers. Bemused looking workmen puffing on cigarettes, homeless guys dancing a jig and small children who seem completely engrossed in what is supposed to be highbrow entertainment...and the look on the faces of commuters as they emerge from a train and realise they've stepped into an opera.
A young opera fan watches Emma Parkinson and Isaiah Bell.
The other great thing about the MetrOpera, as it's known, is how close the singers are to you. I always make sure I'm in the front and the volume of a real live opera singer just blows you away. This is why they don't need microphones. They might be the younger members of
Opera de Montreal
but they have amazing voices and this is definitely the most fun you could have in a metro station for free.
Taking a bow.
I have a theory that all those people, most of my friends among them, who pull a face when you mention opera and swear they could not possibly enjoy it, would love it if they gave it a chance. It's as easy as getting on the metro. Or going to Simons ....
or Jean Talon market...
Or you could buy some tickets and then you wouldn't have to hang out in metro stations. (cheap nights Monday nights).
http://www.operademontreal.com/en/
See more photos of MetrOpera
on the
Dear England, Love Canada Facebook page
.
I have submitted this post to the expat linky party. Read
more expat stories
from around the world.
Read
Are you an Opera Chicken?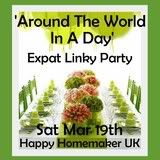 Hey on a completely different note, maple syrup season is beginning. Read all about
sugaring off
.